New Potato Oven Fries with Lemon Thyme Aioli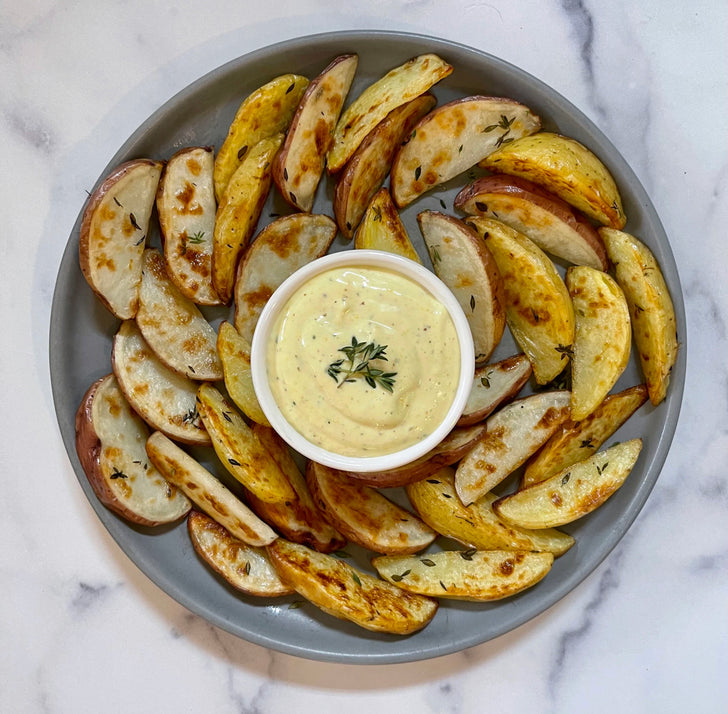 Whipping up some homemade Thyme Aioli to go with – using Fisher Eggs and Queen City Avocado and Lemon Oils! These both take no time at all and are for sure to impress anyone who is lucky to enjoy them with you!
6-8 New Potatoes – each cut into 6 or 8 wedges, depending on the size desired
1 tablespoon Thyme – leaves only
Queen City Herbs de Provence Oil
Maldon salt to taste
1/2 cup Queen City Avocado Oil
1 /4 cup Queen City Lemon Oil
1 Egg + 1 yolk
1 tablespoon Dijon mustard
1 Lemon – juiced and zested
1 Garlic Clove – minced or pressed
1 tablespoon Thyme – leaves only
Flaky salt to taste
Preheat the oven to 400. Grab a rimmed baking dish and line with parchment paper. Toss the potato wedges in a generous drizzle of oil (I used HDP oil for flavor, you can use any you prefer), fresh thyme leaves and a generous pinch of Maldon salt for good measure. Arrange on the prepped baking dish in a single layer.
Pop the the baking sheet into the preheated oven for 15 minutes. Flip each wedge and return to the oven for 15 minutes more. The wedges will be beautifully golden brown at this point. I always like to add a final sprinkle of Maldon salt and herbs to finish – yet some freshly grated parmesan would be lovely – if you are in to that sort of thing.
To make the Aioli using an immersion blender, grab a big glass mason jar and add the oil (traditional olive oil can be used, or any type of oil you prefer. I use avocado for its subtle flavor and lemon to level up the citrus flavor), egg + egg yolk, Dijon mustard, lemon juice and zest and garlic clove. Begin to blend using the hand blender until incorporated and thick. Fold in the fresh thyme and salt to taste. This aioli is truly delicious and goes well with so many things! You can also make this with a traditional blender if needed.
Share this